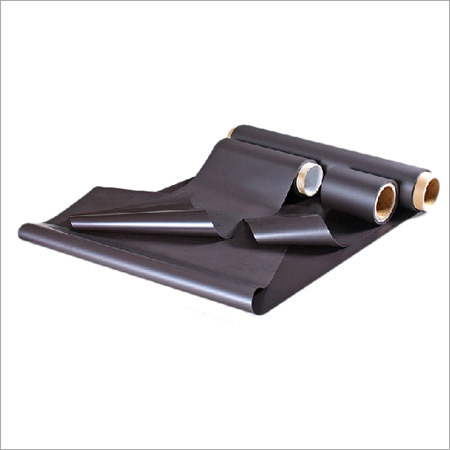 Flexible Rubber Magnet
Price And Quantity
Product Specifications
Magnets

Permanent Magnets
Product Description
We provide Flexible Rubber Magnet which is made from bonded ferrite magnet powder, compound rubber, and more. We adopt a fully controlled three-step process of extrusion, rolling, and injection moulding to introduce softness and flexibility in the end product, designed and developed in various shapes as per the client request. Flexibility improves the feature of Rubber Magnet by allowing to bent, twist, coil, punch, and other into any shape without much stress. Moreover, Flexible Rubber can be stick on different types of printing and synthetic papers, metal sheet, PVC, and more. We are highly professional exporter, manufacturer, supplier, distributor, and trader in Hong Kong. Our high quality magnet is available at the market leading rates.
Specifications:
Developed by bonding Strontium or Barium ferrite powder with polymer matrix
Optional self-adhesive backing
Economical
Isotropic & Anisotropic available
Flexible and bendable
Can be easily slit, punched, stamped, and laminated
Resistance demagnetization
Considerable resistance to chemical agents
Stable on average temperature
Features:
High absorption
Weather resistant
Withstand drilling, cutting, pressing, and various complex shapes
Thickness up to 0.3-2 mm (length may vary as per customers' order)
Application:
Promotional items
Decoration for fridges
Toy
Learning material
Flexible Rubber Magnet

Fairly week magnetic power (Power-Index(1) = 1~3)
Fairly low cost (Cost-Index(2) = 2~3)
Isotropic & Anisotropic available(3)
Produced by consolidating Strontium or Barium ferrite powder with polymer matrix. Form in profiles, strips & sheets by extrusion or calendering method, with optional self-adhesive backing.
With rubber-based characteristic; very flexible & bendable; product can be easily stamped, slit, punched & laminated
Good resistance to demagnetization and reasonable resistance to chemical agents
Average temperature stability
Technical Specifications:
Physical Properties

Parameter

Density

3.6 ~ 3.8

g/cm3

Hardness

92 ~ 97

Hs (A)

Tensile strength

58 ~ 78

kg/cm2

Elongation

125 ~ 165

%

Saturation Field Strength

10kOe

800kA/m

Temperature range

-40 ~ +80°C

Flexibility

No crack when twisting around a testing bar with Ø20-Ø40

Twist

No crack at twist with 180° twice
Dimension Range

Magnetic Strip by Injection

Width =2mm~40mm

Thick =1mm~8mm

Length <=60M Roll

Magnetic Sheet by Compression

Length <=800mm

Width <=610mm

Thick =0.3mm~8.0mm

Magnetic Sheet Roll Form by Compression

Width <=610mm

Thick =0.5mm~2.0mm

Length <=60M Roll

Magnetization Options

• Unilateral multipolar
• Unilateral bi-polar
• Thru thickness
Additional information

Flexible magnets don't crack or break. Meanwhile the products can absorb shock and sound, so it is good for dc-motor which requires low noise.
Anisotorpic flexible magnet has magnetic properties higher than isotropic flexible magnets (about 30% higher) mainly tailored for dc-motors or strong holding applications. Isotropic flexible magnets are good for promotional, advertising and educational purposes.
Dimension and shape can be in large sheet, large roll, or any size customer prefers. For tailor-made size mould fee ranges from one to several hundred US dollars only.
Self-adhesive backing is available.
Color PVC-laminated flexible magnet available in sheet and roll forms.
Color printing on flexible magnet is available (artwork printed on PVC laminated on the magnet); can tailor cut to preferred shape.
Magnetic Properties

Material

Isotropic/ Anisotropic

Remanence

Coercivity

Intrinsic Coercivity

Max. Energy Product

Grade

Anisotropic

Br (mT)

Br (Gs)

bHc (kA/m)

bHc (Oe)

iHc (kA/m)

iHc (Oe)

(BH) max (KJ/m)

(BH) max (MGOe)

MR-7L

Isotropic

165
+/-10

1,650
+/-100

108
+/-8

1,350
+/-100

132+/-8

1,650
+/-100

5.2
+/-0.4

0.65
+/-0.05

MR-7H

Isotropic

170
+/-10

1,700
+/-100

112
+/-8

1,400
+/-100

136+/-8

1,700
+/-100

5.6
+/-0.4

0.70
+/-0.05

MR-10

Semi-aniso

220
+/-5

2,200
+/-50

136
+/-8

1,700
+/-100

160+/-8

2,000
+/-100

8.0
+/-0.4

1.00
+/-0.05

MR-12

Anisotropic

245
+/-5

2,450
+/-50

140
+/-8

1,750
+/-100

148+/-8

1,850
+/-100

11.2
+/-0.4

1.40
+/-0.05

MR-12BH

Anisotropic

247.5
+/-2.5

2,475
+/-25

168
+/-8

2,100
+/-100

224+/-8

2,800
+/-100

12.0
+/-0.4

1.50
+/-0.05
Trade Information
Guangzhou

Western Union, Telegraphic Transfer (T/T), Letter of Credit at Sight (Sight L/C)
Yes

Contact us for information regarding our sample policy
Africa, Eastern Europe, South America, Australia, Asia

All India
Contact Us
Rm 1002, 10/F, Workingbond Comm. Center, 162 Prince Edward Road West, Hong Kong, Hong Kong, Hong Kong S.A.R.
Phone :+85227877216